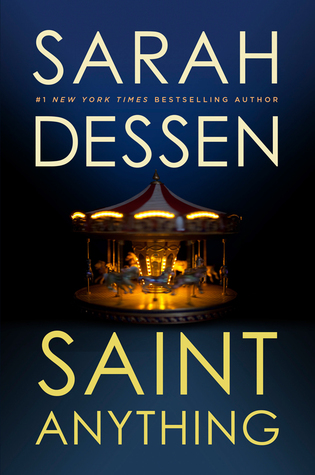 Good Reads Summary- "Peyton, Sydney's charismatic older brother, has always been the star of the family, receiving the lion's share of their parents' attention and—lately—concern. When Peyton's increasingly reckless behavior culminates in an accident, a drunk driving conviction, and a jail sentence, Sydney is cast adrift, searching for her place in the family and the world. When everyone else is so worried about Peyton, is she the only one concerned about the victim of the accident?
Enter the Chathams, a warm, chaotic family who run a pizza parlor, play bluegrass on weekends, and pitch in to care for their mother, who has multiple sclerosis. Here Sydney experiences unquestioning acceptance. And here she meets Mac, gentle, watchful, and protective, who makes Sydney feel seen, really seen, for the first time."
Firstly, I have to say that this is the first Sarah Dessen book I've ever read. This was a great first book, in my opinion. A contemporary YA novel following a high school girl experiencing tough family problems; sounded all too familiar to me. I loved it. The main character was easy to relate to. The writing style was great. Even Dessen's world building was great. It was an overall great book. Well rounded. I gave it a 5 star rating on Goodreads.
When I say "world building", I don't mean like in a fantasy book. Sarah Dessen has a way of explaining a situation, and you are there, in that conversation, and you can feel the palpable tension in the air. Even the phone calls were tense and you could feel yourself on the edge of the seat, wondering what would happen next. I enjoyed her way of building the separate relationships the main character had with each other character. Every relationship was understandable and unique. You were the main character. You felt each moment for yourself. I did at least.
The ending was just as good as the rest of the book. All loose ends were tied. I felt like a big task had been completed when I finished this book. I had accomplished a goal, and had done something great. I am happy with this book.
I don't know, maybe I'm just fan-girling and this isn't considered a serious review. It's midnight. XD