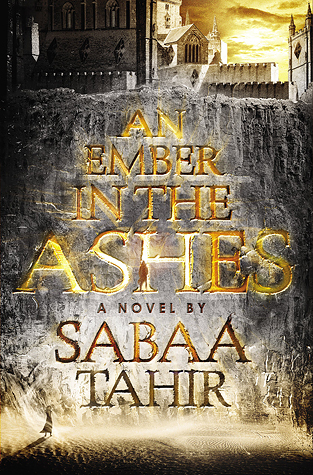 Hardcover, 446 pages
Published April 28th 2015 by Razorbill
One night Laia's family is taken from her, including her brother Darin, who is escorted to prison for treason. She is left alone, and seeks out help from the Rebellion, a group that her parents were once a part of. When she finds them, she is ready to take on any task to save her brother, even if it's to spy on a school full of assassins.
Elias, a student at the academy, only wants to be free of such a cold, cruel life. But when he's chosen to compete against his friends to be the next emperor, he really starts to see the truth of his world and people's cruelness. He starts to learn the value of his own personal freedom in his heart, and knows that nobody can take that from him.
This book I gave a 4 out of 5 stars. There were a lot of good things about it. It was structured well, fast paced, there was anxiety and fear and sadness all over the place. It ended well, and you can tell it's not a standalone book. At all.
There were a few problems I had with it, however.
First of all, rape. It is mention a lot in this book, and is a major fear factor for Laia. In fact, it's the only fear factor Laia has to worry about. Besides from getting beaten, choked and burned by the commandant. Even Elias suggests that he has raped her, to cover for why she's out and about at night. Why is that the only reason she could ever be two feet away from the slave quarters? Why can't she be afraid of getting found out by one of the "keen" assassins because she stands up too straight for a slave? Rape does not make a woman weak. The fear of rape does not make a woman weak. Stop using rape as a plot point.
Secondly, the relationship with Keenan. Come on fellow readers, I know you were thinking this too: What is the point with Keenan constantly touching Laia's face. Just because he has red hair doesn't mean he should be a romance. The only reason he's in the plot is to send messages and be the middle man, to give confusion to the whole mission. We don't care how much Laia gets breathless over him, how much she shakes at his touch. It's pointless. She's never going to see him again.
The Commandant Keris, Elias's mother, was a great character by far. There is so much mystery to her, and I feel there needs to be an entire book about just her backstory and childhood. We're all wondering what made her so cruel to begin with, because I'm pretty sure the nightbringer didn't tell her to abandon her baby. She showed a little humanity at the end of the book, and Elias denied any sympathy for her, rightly so. But what if she wasn't always evil?
I recommend this book to you guys, and hope you enjoyed it as much as I did. Now to wait for the second one to come out!