"Time moves slowly, but passes quickly."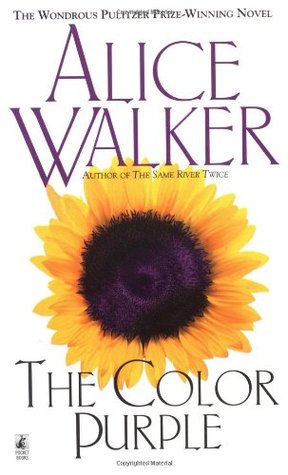 I finished this book back on the 5th of July, but I've had to wrap my head around all the things that are illustrated in this book. There's rape, physical and verbal abuse, sexual discovery, racism, feminism and religion. Oh My!
So, we follow Celie during her life through letters she writes first to god, and then later to her sister, Nettie. First off, she's raped by her step-father. She has two kids by him, and then they disappear. She doesn't know if they're alive or dead. Her sister Nettie tries to teach her basics things like addition and writing. You see that some of it takes effect in the letters she writes later.  Then Celie is made to marry Mr. ______, or Albert, who already has kids and needs a good wife. Mr. _____ wanted Nettie, but she was too young.
Celie writes letters to god about her life with Mr._____. He abuses her and the kids. Then his long lost love, Shug, comes in and changes everything, even Celie's views on sex and religion.
One of my favorite quotes in this book is; "I think it pisses God off if you walk by the color purple in a field somewhere and don't notice it. People think pleasing God is all God cares about. But any fool living in the world can see it always trying to please us back." 
I think the most important part of this book was that part, where Shug and Celie are going back and forth about their "image" of god. How we are raised to see him as a white man with white hair and white robes, this all seeing figure in the sky. But then Shug says: "Cause that's the one that's in the white folks' white bible." This whole conversation they have illustrates racism and religion all in one, and it's powerful and eye-opening.
The relationships in this story change a lot too. It's a good thing though. It shows the passage of time and emotions, the closing of certain problems, and the development of family. Celie becomes friends with Mr. ______ towards the end, becomes lovers with Shug, then friends after that. This entire book  shows the passing of a lifetime, and how things change for the better in the end. It does have a good ending. It's just a tough journey to get there.
I gave this book 5 out of 5 stars on goodreads, and did a much shorter review over there if you'd like to see it.
https://www.goodreads.com/user/show/13176207-jennifer