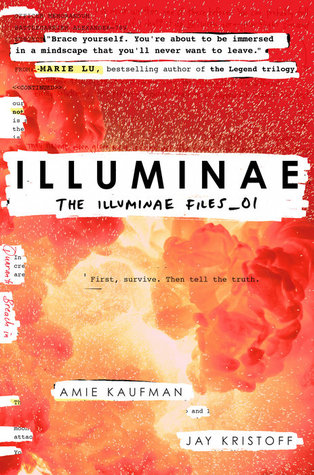 This morning, Kady thought breaking up with Ezra was the hardest thing she'd have to do. This afternoon, her planet was invaded.
      The year is 2575, and two rival megacorporations are at war over a planet that's little more than a speck at the edge of the universe. Now with enemy fire raining down on them, Kady and Ezra—who are barely even talking to each other—are forced to evacuate with a hostile warship in hot pursuit.
Let me just start off by saying this book was love at first sight. Literally. That cover is amazing!
I saw someone reviewing an early copy of this book, and knew that I just had to have it. I bought it the day it came out. I was so excited!
And that excitement held true through the entire story. Truly.
The narrative kind of keeps you outside looking in. It's a collection of files and chat logs on three spaceships that are fleeing their planet – fleeing! – because a mega corporation has landed and attacked. You follow Kady and Ezra as they fight to survive this catastrophe. You are pulled along the story by the nose, wanting more and wanting everyone to be okay. This book pulls your emotions around like you're in zero gravity. It's stunning and shocking.
Kady by herself is an amazing character. She's a hacker that will stop at nothing to get what she wants. She sneaks around and plants bugs in the server, trying to get to information that's been hidden from everyone. All she wants is the truth.
Ezra is just trying to survive and get out of this whole thing alive. His love for Kady is true through the whole thing.
And then there's AIDAN…. an AI built to protect the humans. But instead it becomes self aware and it's "mind" is so beautiful! He/she is the best part of this book, I think.
I give this book 10 / 10 stars! I would love to read this book again and again forever and ever. Would you guys enjoy this kind of book?